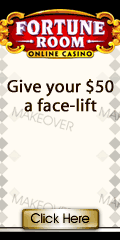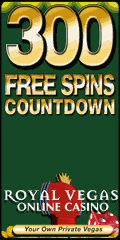 Free slots tips, winning strategy, rules

Zodiac Casino

Zodiac Casino is giving you 50 FREE SPINS on Starscape, the celestial Video Slot and you get to keep whatever you win!

Slots Tips

The slots has three spinning wheels marked with symbols. Each time the game is played, the three wheels come to rest with a random selection of symbols showing in the window. Certain combinations of symbols cause a payoff. The object is to earn money by getting paying combinations, which are shown in the window at the top of the slot machine. Some machines allow you to wager more coins to receive greater paybacks for winning combinations. There are also machines that allow you to wager more money to have more than row where winning combinations can match up. In such a game, you might have more than one winning combination on one turn.
Slot Machine Tip #1:
Always read the pay-off information on each machine, particularly on Pay for Play machines. These are usually three coin slot machines with the first coin paying only on limited symbols, perhaps cherries and bars. The second coin pays on the next set of symbols and the third coin pays on any win. The big win is with the third coin. Many a player has turned up three sevens and stood in wonderment as to why they didn't get paid. They only put one coin in the slot machine and one coin won't feed the bulldog on a pay for play. Know what you are playing.
Slot Machine Tip #2:
When playing progressive slots or three liners or five liners make sure you have inserted the proper number of coins in the machine. It can be very frustrating to see a line of three sevens and not get anything because you didn't insert the required number of coins.
Slot Machine Strategy
Maximum Coin Play: On most slot machines, especially progressive jackpot slots, it's best to play the maximum number of coins in order to take full advantage of the entire payout amount.
Specialize: Find slot machines that you understand and play them. Don't play just any slot machine that you see. Learn what slots appeal to you and stick with them ... we all have favorites - that's part of the fun.
Take a Chance: If you are up you can afford to take a chance on high end machines - even the $5.00 or higher slots. If you do hit ... take the money and run.
Slot Machine Money Management Strategy: Money management, when playing online casino slots, is a very good idea and each of us has our own idea of what that means. There are a number of approaches to money management, but the most effective is the daily budget. Very simply, the player budgets themselves to a daily bankroll ... $100, $500, $1000 or whatever. If that bankroll is lost, the day's play is over.




Virtual City Casino

Virtual City will give you

$50

free just for downloading their software. Try it out at their expense. Then if you make a deposit of $100 casino will give you another

$40

free to start your good luck.




Blackjack Ballroom


Get

$500

free and

1 Hour

of Real Casino Play free and keep your winnings! Plus get

$400

, absolutely free, click to find out more!




Royal Vegas

Try your luck with

$1,200 Free

. Choose from traditional table and parlor games, as well as a number of exciting slots and Progressive Jackpots. All games run off Microgaming Digital Gaming Systems Software, which is the most respected supplier in the industry.




Lucky Nugget Casino

Get

$1000

free and 60 minutes to make as much money as you can.




7 Sultans Casino

Play over 300 games and get

$1,000

. 7Sultans Casino is the oldest, largest and most trusted online casino on the Web. Online casino games include online slots, keno, baccarat, blackjack, roulette and progressive jackpots of over $1,000,000.